Accessibility Statement
Elderburn Luxury Lodges Disabled Holidays in Scotland…
Elderburn Lodges in Fife are 5 self-catering lodges near St Andrews in Fife, just outside the small village of Denhead. All of our houses were designed and built to suit people who may have additional access requirements so we can provide luxurious accommodation for anyone looking for disabled holidays in Scotland. All of our lodges have standard wheelchair-width doors, concrete pads to park on at the front door, level access into each house, bedrooms, bathrooms, kitchen, dining, and living areas on the ground floor. All light switches, plug sockets and door handles are standard heights for new building regulations. While all houses are suitable for most needs, we have allocated Lodge 6 for those who might have specific requirements. It has additional grab rails and has a wetroom with a shower (as opposed to a bath or shower with glass screens), there are contrasting colours throughout to help differentiate between surfaces/heights etc.
Lodge 6
Our website has diagrams of the lodge layout and pictures of all the rooms, as well as a tour function so you may "walk" around inside the property.
Enquiries can be made directly via the website, or by e-mail, telephone or letter.
This Access Statement is available on our website and in the Information Pack in the lodge.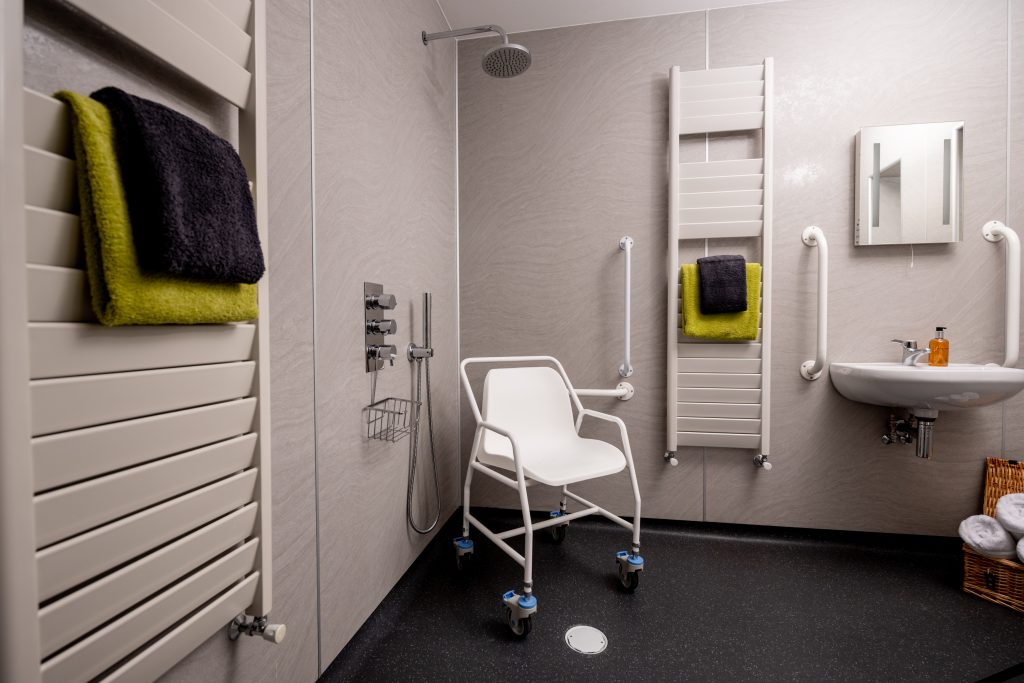 Pre-Arrival
The easiest way to arrive with us is by car.
The closest bus station is in St Andrews (3 miles away).
The closest train station is Leuchars (5 miles away)
The closest domestic airport is Dundee (15 miles away)
The closest international airport is Edinburgh (47 miles away)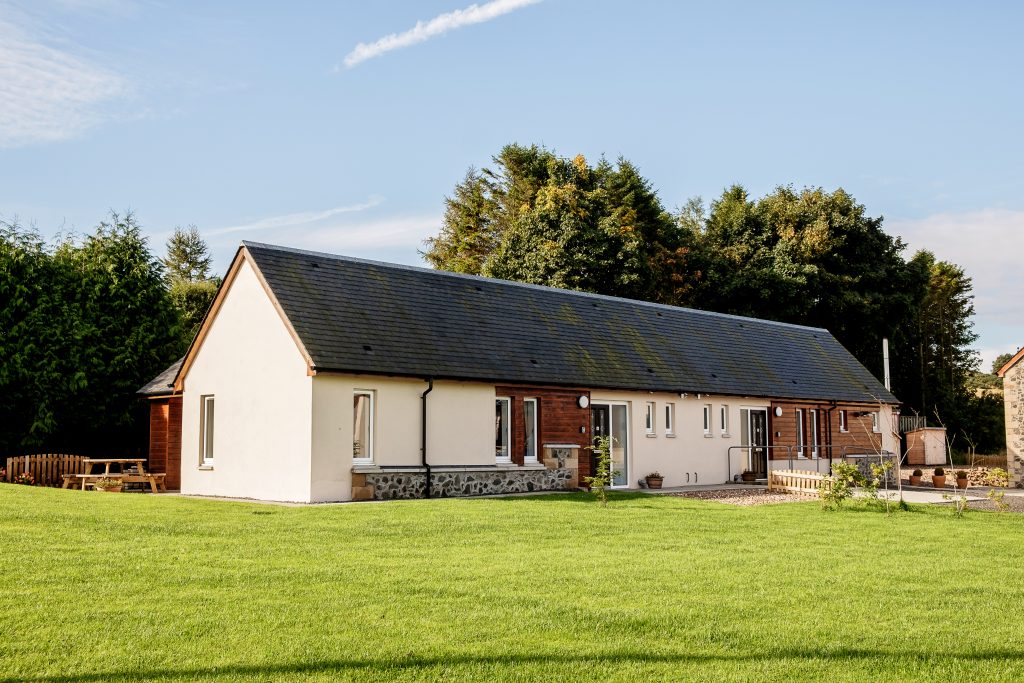 On Arrival
Lodge 6 can be found at the top end of the car park, slightly to the left when you arrive. Each house is numbered 1-6.
You may park on the designated concrete pad at the end of the railing. If you require additional car parking, please feel free to park elsewhere in the car park.
There is a small ramp from the parking space to the patio area which can also be accessed from inside the house to avoid using the step. There is a metal ramp stored in the hall cupboard too if you require it.
Someone will be here to meet you to check in between 4-6 pm unless otherwise arranged.
Kitchen
Worktop height 90cm
Sink height 90cm. Lever style tap. No open clearance but the cupboard door may be opened for access
Oven control/door handle height 140cm
Touch-sensitive halogen Hob height 90cm (controls at the front)
Front loading washing machine – Integrated (hinge on right)
Front-loading dishwasher
Fridge Freezer handle height 75cm and 100cm
Table height 75cm. Clearance 70cm
Dining chair seat height 48cm
Wetroom (first door on the right in the hallway)
Toilet height 50cm
Wash hand basin height 80cm. (Clearance 65cm)
Shower control height 100cm
There is a removable hand-held shower head as well as a fixed overhead outlet
There are 5 grab handles between 50-70cm height
There is 2m lateral transfer space beside the toilet
The toilet holder is at a height of 95cm
There is a mirror above the sink at a height of 130-185cm
There is a full-length mirror at a height of 60-180cm
We have a moveable shower seat if you require it. Please request this at the point of booking.
Bedroom 1 (first door on the left in the hallway)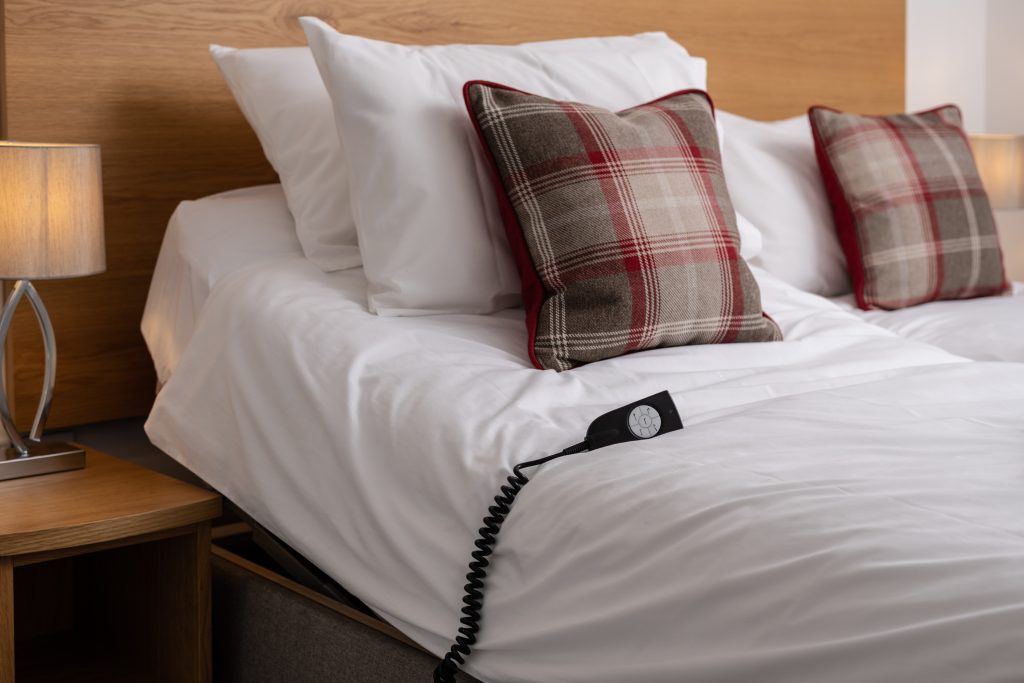 Bedroom one has 2 single electric rising beds. Please note these cannot be made up as a super king room, and do not have sides on the beds.
Bed height 65cm
Minimum lateral transfer space 80cm
Maximum lateral transfer space 150cm
There are clothes hangers provided. Hanging rail height 158cm
Wardrobe shelf heights 55cm, 110cm, 165cm
Safe inside wardrobe at a height of 110cm
Bedside table height 50cm
Bedside lamps on each bedside table. Controls are on the power cords.
Vanity table height 76cm. Clearance 65cm
Vanity mirror height 95-155cm
Full-length mirror height 50-165cm
Stool height 45cm
Curtain tie-back height 115cm
Moveable folding luggage rack (stored inside wardrobe)
Spare pillows and hairdryer in each bedroom wardrobe
Bedroom 2 (Door off living area)
Same as Bedroom 1 with the following exceptions:
Bedroom 2 can be either twin or super king. Please request your choice at point of booking.
Hanging rail heights of 100cm and 158cm in wardrobe alcoves
Wardrobe shelf heights are 105cm and 165cm
No safe
Roman blind cords 170cm (for child safety reasons)
Bookcase with DVDs, games and books
Living Area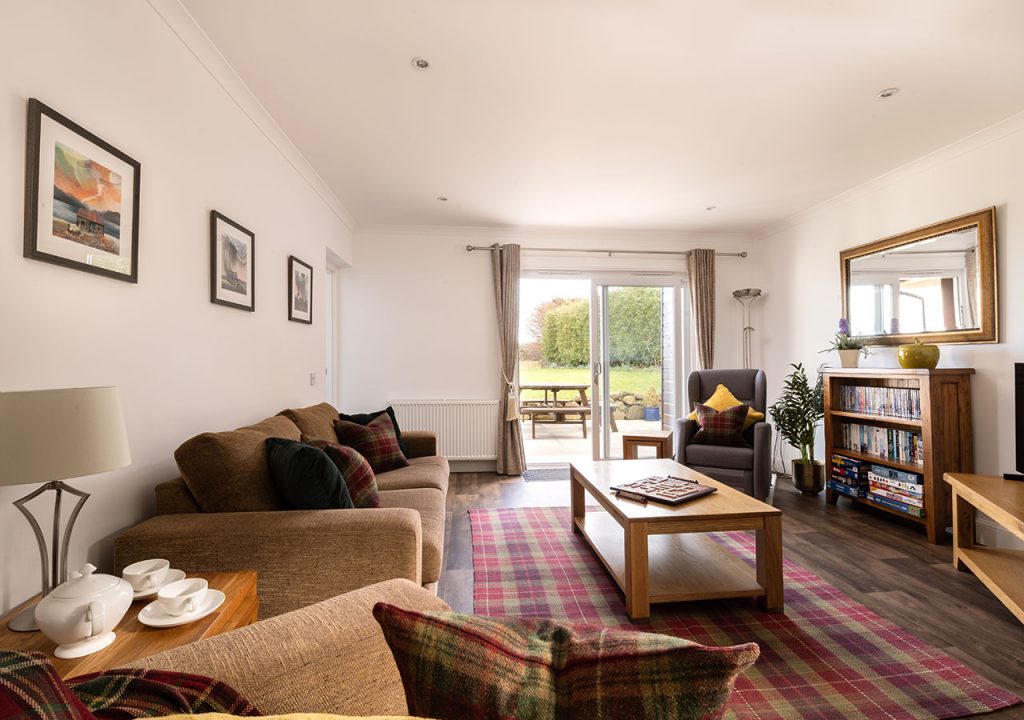 There is an electric riser recliner armchair. Controls are on the right hand side of the chair on a power cord
Sofa height 45cm
Armchair height 45cm
Coffee table height 45cm
Side table heights 40cm, 45cm, 50cm
Side lamps (on side tables) control on power cords
TV – subtitles can be switched on (see instruction manual)
Coffee table and rug may easily be removed, please let us know if you would prefer this.
If you require any furniture to be removed please let us know.
Inside your Lodge
Hall Cupboard (second door on the right)
Front-loading tumble dryer (hinge on left)
Houses hot water tank and controls behind a screen.
Fuse box on the left wall at the back of the cupboard
Ironing board, Vacuum, brush, bucket and mop, iron and ironing board
Portable metal ramp
Central Heating controls are in the hall beside the bathroom door. They are 145cm from the floor. It is very easy to use. We will show you how to change the heating, and instructions can be found in the instruction manual.
Floor Plan:
Door Widths:
Front Door 80cm
Patio Door 86cm
Bedrooms 77cm
Wetroom 77cm
Kitchen 82cm
All door handle heights are 100cm
All lights switches are 100cm
All plug sockets are 50cm
All furniture is moveable.
There is vinyl flooring in the wetroom, kitchen, living room and hallway. There are carpets in the bedrooms.
There is a paved patio area which can be accessed from the living room. There is a wooden picnic table with fixed seating. Seat height 45cm, table height 77cm
There is free Wi-Fi throughout. We will provide you with the password on arrival.
If you require any further information please call 07840 801114, or email [email protected].
This access statement does not contain personal opinions as to our suitability for those with access needs, but aims to accurately describe the facilities and services that we offer all our guests/visitors who are looking for disabled holidays in Scotland.
If you would like to book one of our luxury lodges in Fife or would like to find out more then please get in touch today and we will be delighted to help you.