23 April 2023
Bag yourself a free teddy!
Family holidays are wonderful. They're the stuff that memories are made of. Whether you're on your first family trip, or you go every year, the time spent together never gets less special. At Elderburn Lodges, we understand that every moment you spend together is precious and that it is up to our gorgeous self-catered lodges to make sure that your family holiday is as special as it can be.
To help us achieve that goal, we've enlisted the help of a team of delightful teddy bears. These bears are our gift to you as a family when you stay in one of our luxury lodges for 7 nights or more. We hope the teddy bears help you remember us and how much fun you had on your visit to Fife.
The bear is there to go on all of your family adventures with you, to sit guard over your wee ones when they nap after a long day of hiking, running, exploring, and learning, and for you to take on all of your future adventures. Take a bit of Fife with you wherever you go.
What name will you give him? We would love to hear all about the adventures that you and your teddy get up to when you come and stay with us. And don't forget to share your photos of your trip to Elderburn Lodges with us on our Facebook and Instagram pages.
What adventures could you take your Elderburn bear on?
If you're at a loss for things to do when you come to stay with us in Fife, do not fret. There is plenty to do in and around Fife for families. All of these will offer you some brilliant memories, great laughs, and even better photo opportunities for you and your new bear.
The Scottish Deer Centre
What better way to introduce your wee ones to Scotland than to wander around 55 acres of Fife countryside, spotting all the different animals that inhabit it, and playing around in the play areas provided?
The Scottish Deer Centre focuses on conservation, education, and research and is home to over 10 species of deer that used to be native to Scotland. The centre is also home to Raptor World, where you and your kids (and your teddy!) can enjoy the birds of prey collection. They even offer handling experiences! We're not sure that your teddy bear will be strong enough to hold an owl just yet, though, be warned.
Deep Sea World
If deer aren't your thing, why not take the family along to Deep Sea World? You and your little ones can watch with awe the wonders of the seven seas. From seals to axolotls, there's plenty at Deep Sea World to keep everyone occupied, even your teddy!
Snap some pictures of your little ones in front of the shark tank. And then get them to teach Teddy all they've learned on the way around. There'll be plenty for them to talk to him about!
Xtreme Trampoline
Are you and your family less nature-inclined and more thrill inclined? Don't worry, there's something for you to do with teddy too! We just hope that you're all ready to jump for joy! At Xtreme Trampoline, you can spend your day bouncing around and learning new tricks together. Why not finish it off with some ice-cold slushies and tasty treats?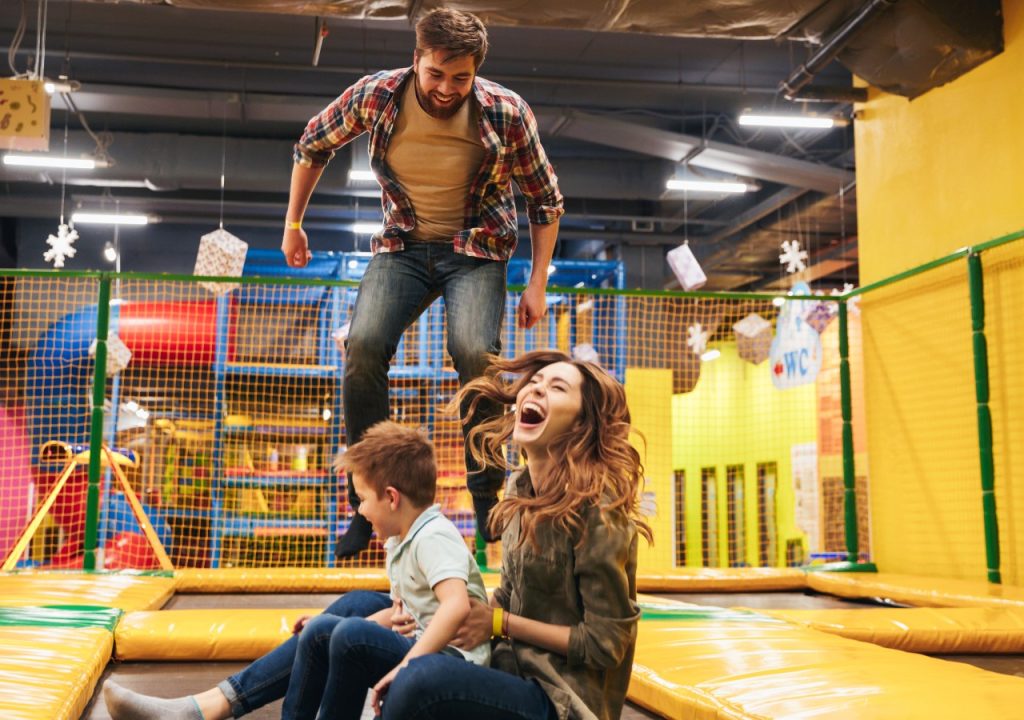 We're sure that your teddy bear would love a trip somewhere so exciting. In fact, we reckon he just can't 'bear' to wait any longer!
We also have a range of games and activities for you and the little ones in our lodges. So, if there's a day when you all want to cuddle up with your new friend, there's plenty to do indoors.
Whatever you do with your teddy bear, we hope you make some truly amazing family memories with us.
Remember to add a note in your booking if you would like a teddy (one per child per 7-night stay).
Book now