6 December 2016
To get to the other side – Places to visit in Fife…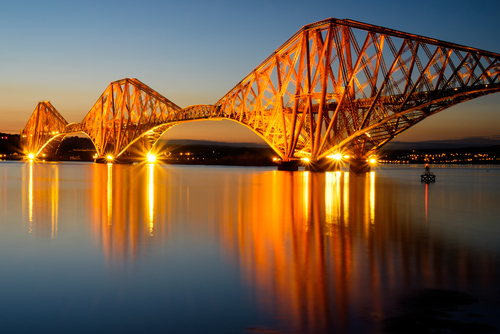 Did you know it took 4,500 workers to build the Forth rail bridge? Were you aware that the Forth road bridge was the longest of bridge of its kind outside the US when it was built? The Forth Bridges have been famous landmarks on the Firth of Forth for many years. Now rising out of the water like Godzilla is the new Queensferry Bridge. Joining the family of the famous duo, each bridge has its own story to tell. To commemorate these amazing structures, the Fife Cultural Trust is bringing the stories of these bridges to life. 'SPAN- A Tale of Three Bridges' is an exhibition being hosted at Kirkaldy Galleries and is well worth a visit!
Telling the story of three bridges
The exhibition starts by looking at how travellers crossed the Forth prior to the bridges being built. As methods of transport evolved so did the need for alternative methods of crossing this expanse of water.
Explore the exhibits and find out how these problems were solved. Look at the engineering that was involved. Delve into the facts about the workers behind the monumental construction of these incredible structures. Discover what was involved. Watch film footage, search historical photos and images, and analyse a recently created model of the rail bridge.
Perfect family day out in Fife
Plan a great day family day out here in Fife where you and the kids will all learn something special. With interactive displays, amazing stories, fabulous facts, dressing up and a giant jigsaw, there is plenty to amuse kids of all ages! As a result, you will look at these incredible structures with insight and awe every time you pass them. Also, you will appreciate the work that is presently going on with the building of the new Queensferry bridge, due to open in May 2017.
Build Bridges and visit us in Fife!
On in Kirkaldy Galleries until the 25th of February 2017, you have plenty of time to come along and see it. Maybe you are looking for somewhere to stay? Our self-catering accommodation is near St Andrews, here in Fife and a 40minute drive to Kirkaldy. Our Winter Early Bird offer is on until the end of February, tying in nicely with the exhibition dates. Find out more by getting in touch today. Call us on 07840 801 114 or email us here. Come along and enjoy Fife!
Book now