9 March 2020
Are you looking to get away for a few days on a relaxing break somewhere with a hot tub? Elderburn Lodges can offer a luxurious stay in Lodge 3 which comes with your very own and exclusive hot tub. Increasingly popular, hot tub holidays in Scotland allow you to enjoy our beautiful scenery whatever the weather. The wooden gazebo ensures that even if the skies open, you can enjoy your bubbles!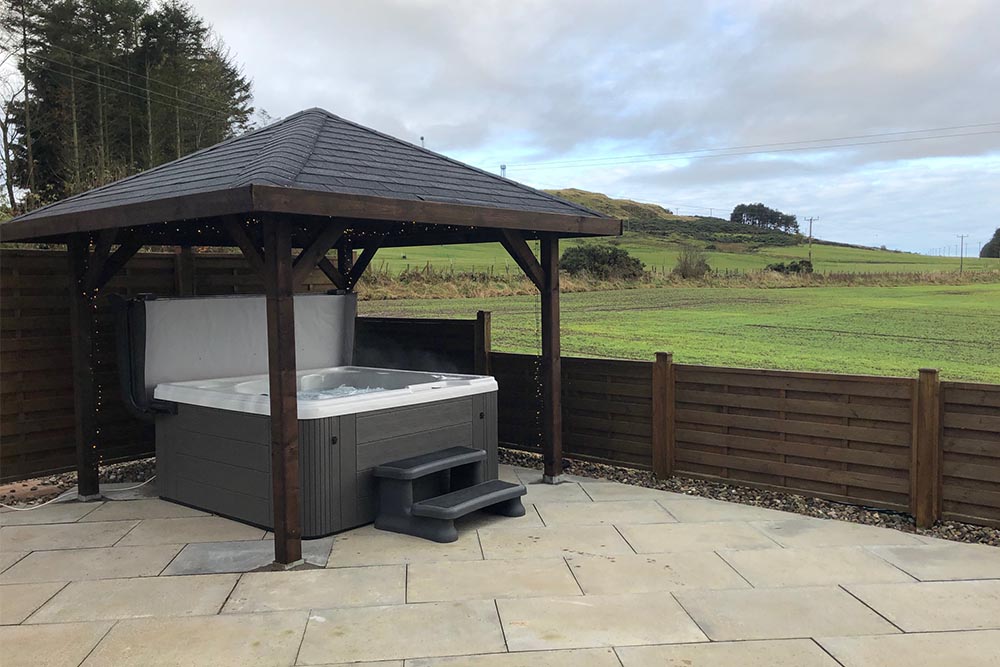 About our hot tub holidays in Scotland
A hot tub break in Fife means you can spend the days exploring our towns and countryside, and the nights in a hot tub under our beautiful starry sky. Or, if you prefer, spend the day in the hot tub and the nights in our towns!
Our hot tub is for the exclusive use of residents of Lodge 3, and can seat up to 7 people. Covered by a fixed gazebo, it can be used day or night, whether it is sunny or rainy. The hot tub sits on its own private patio, with beautiful views over the Fife countryside. Enjoy the hot tub with a glass of bubbly and let its 30 powerful jets massage all those stresses and strains from real life away. With LED underwater lighting and twinkly lights on the gazebo, we're sure it won't take long before you have left all your worries behind.
And if you are on holiday with friends or family who are staying in some of our other luxury lodges, then you are completely welcome to share the hot tub with them.
Things to do in Fife
If you are thinking about enjoying your break in Fife, you might not want to ever leave our hot tub! But if you do, there are plenty of activities to keep you busy.
For fans of the TV series Outlander, you can explore some of the filming locations and experience what life may have been like for Claire and Jamie. These include the beautiful village of Culross and Aberdour Castle.
You could also take a trip to St Andrews, where one of Scotland's most beautiful sandy beaches awaits. Take in the sights in cafes and pubs, and maybe even play a round of golf! If you are looking for St Andrews lodges with hot tubs, then Elderburn Luxury Lodges may be just what you need.
There are plenty of things to do in our corner of the world! And the best bit is that at the end of the day, you can look forward to a good hot tub soak. Hot tub getaways in Scotland are the perfect, calming solution to our busy everyday lives.
Enjoy your hot tub break in Scotland with Elderburn Lodges
Spend a few days with us here at Elderburn and you will leave feeling happy. If you're looking for hot tub holidays in Scotland then get in touch today!
Book now